Size Guide
We're here to help you get the best fit! 
Our compressive sets are true to size.They're designed to fit you like a glove. Snug and supported, but with enough room to move.
Don't worry too much about it being snug at first as it'll slowly adjust to your body.


Whip out your measuring tape and let's get started.



How to measure
A. Chest
Wear a lightly padded bra or none at all. Measure the fullest part of your 
chest.
B. Waist
Measure the narrowest part of your waist.
C. Hips
Measure the widest part of your hips.

We know that sizing can be a bit of a head-scratcher,
especially online, so feel free to shoot us an email at
hello@grooveactivewear.com
or a
DM on Instagram
.
Include your measurements in inches. Sending full-body photos would be a great help, too. 
Get your groove on now!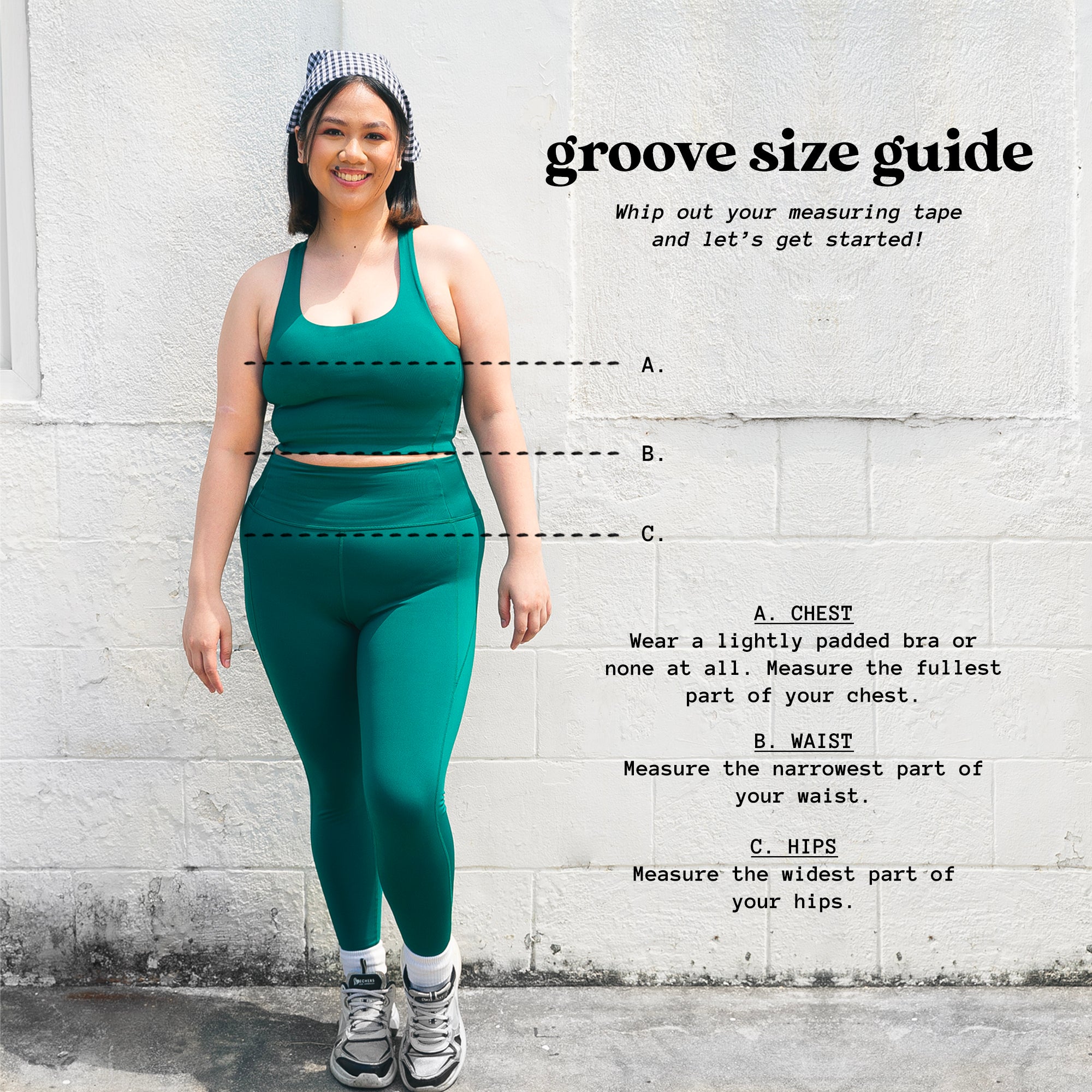 @grooveactiveweargrooveactivewear a gift from groove to you 🎁 our first 100 customers to buy a minimum of PHP 6,000 get a free tote 🧡 see you at grooveactivewear.com on June 30, 12nn.June 29 • View on Instagramgrooveactivewear 👋🏻 Say hello to our Compressive Shorts 🛒 available on grooveactivewear.com on June 30, 12nn.June 28 • View on Instagramgrooveactivewear 👉🏽 Basic Compressive Tights → Compressive Leggings 🛒 available on grooveactivewear.com on June 30, 12nn.June 28 • View on Instagramgrooveactivewear 👉🏽 Basic Tank Bra → Tank Bra 🛒 available on grooveactivewear.com on June 30, 12nn.June 28 • View on Instagram
Powered by AZEXO Shopify page builder